THE WORDS OF OUR HEARTS
In times of deep sorrow it would seem a wonderful blessing if the tears that fall could speak the words of our heart.  Alas that is not the case and we are left to use mere words to share the moments, thoughts, and memories to explain the pain that settles in the soul.  Today if my tears could speak they would ask questions.  Why?  Why now?  Why at all?  Why this?  The list of "why" questions would be abundant, seemingly never ending.  But in the quiet lack of response our minds grasp that the questions will remain unanswered, that the anguish and loneliness will settle deep in our souls and be a companion for a time.
I share a tiny piece of this story.  The loss of sweet, sweet dreams and a lifetime of "if onlys".  The bigger story and deeper pain, the reality of lives forever altered and joys ripped away is borne by two individuals that I love deeply.  One who shares the bond of family ties and the other who chose that bond out of love and commitment.  Joel and Meghan have graced the pages of this blog before.  They exchanged their wedding vows on our 11th wedding anniversary and watching their life together take shape has been wonderful.  In so many ways all the things they have planned have come together so flawlessly.  May 20th will be etched on our minds as a day that flawless became flawed.
INADEQUATE
I'm not sure how long this will take me to write.  I started this 5 days after I held the tiny, precious body of my nephew in my arms, willing him to breath and wishing so desperately that the outcome of the day could miraculously shift to include the joyful celebration that we had been anticipating.  But the words do not flow as naturally as they often have.  The spoken word is not quite adequate to fill the emptiness in my heart and in the hearts of my family who longed for the sweet sounds of this beautiful newborn child.
Joel asked me to write this, gave me permission to share the experience and to try to give voice to the raw emotion of letting someone go before we even got to say hello.  While I share with you the journey from my perspective it will likely not come close to sharing the deep loss Joel and Meghan feel.  I cannot share from the first person voice the heartbreaking reality of giving birth to a longed for child knowing he would not draw his first breath….
ANTICIPATION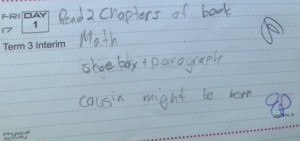 Looking back to the days leading up to Ryker's birth I can see clearly the anticipation of joy.  Notes I posted about children asking everyday when their baby cousin would arrive, entries in day planners stating, "today might be the day", last minute details being prepped, anxious texts asking what was normal, conversations revolving around what will happen when.  My house was filled with conversation of the days when the little cousins would visit.  Memories of the days when their first two cousins entered the world and the thoughts of sweet smelling newborns and perfect snuggles with children that shared their heritage were regular afterschool exchanges…There was really no indication that only a few days could change the tenor of those interactions to reveal the most intense loss a family could possibly feel.
SHOCK
Funny how quickly anticipation can change from the joyful butterflies of good to come to the anxious waves of gut-wrenching sadness.  And interesting how everyone experiences and reacts to these times differently.
Joel texted, asking questions that didn't seem right but my mind couldn't wrap around the possibilities.  At first my hope was high that, that night would be the night that a sweet child would enter the world whole and welcome.  An hour later, the phone rang and when I answered and lost his first words only to hear his silly ringtone again, my heart felt "off", and although I can't say I had some premonition, I can say that it did not leap with excitement either.  The words out of his mouth were so broken and not right.  I could have stayed on the phone longer but when you're a bystander you leap to action needing to "do" something.  I looked across the couch willing the words not to be true as I spoke them to James and while I tried to cry I realized in that moment what shock must feel like.  The inability to believe what is happening and react in a way that would seem "normal".
The hours that followed were surreal to say the least.  We were there, physically speaking, hearing the words spoken by the doctor, midwives and nurses, but our minds were elsewhere trying to will a miracle.  They happen, it's possible, God is in the impossible but the fallenness of our world leaves devastation in its wake and that night I watched as what should have been the most amazing, elating experience ripped open the hearts of two dear people.  We surrounded them, both families, coming together again to lift them up and love them the best way we knew how.  Holding them, loving them, praying with them and for them, listening, hearing, wishing, crying…seeing our own inability to take the pain away but knowing we would be nowhere else but here to walk beside them.
DEATH
Of course we cried, periods of quiet and then tears.  Moments of contemplation, then anger, then sadness, then questions.  We entered the period of waiting.  The truth in this moment is that one person alone must bare the physical pain at a time when all she should be allowed to do is curl up in a ball and give in to her grief.  Family, an entire waiting room full of parents, aunts, uncles, siblings, best friends and cousins waited for news, updates, trying to grasp the reality of the situation but knowing nothing of how these things work.  In a darkened, quiet room two people tried to understand how to put these next hours into the puzzle of their lives.  I think we all prayed that somehow, modern technology had gotten it wrong.  I think we sat in denial in order to cope with the devastating truth that we would not bring balloons and flowers and newborn outfits and laugh and joke and share joyful tears.  As I watched Joel and Meghan take in all the night would offer I realized it was possible that this could take them in two different directions.  The circumstance could serve as a wedge to drive them away from each other or it could draw them close in their need for comfort.  I tried to be quiet, to just listen and watch, tried to be what they needed in the moments when all seemed completely lost and overwhelming.  I think I did what I could in my humanness and pray that God is able to be the everything else they need that our families couldn't then, and can't now give them.  I can say that what I witnessed was horrible and awful but also beautiful and unique.
BIRTH
I choose not to replay every little detail because Meghan and Joel will likely relive the memory of it many times over in their lives.  The memory of the physical pain will fade, along with the raw emotional pain but there will likely always be memories of the night that will remain etched in their minds.  While it is still fresh enough I can see the whole night but there are blips in the reel that are vivid.  Some that leave a pit in my belly and others that shine a glimmer of hope.  I can see Meghan's fear as she recognizes the battle between letting go and holding on, I see Joel's tender, loving gaze as he gently encourages his wife through the hardest task she will ever face, I see two people living out the vows they spoke, to walk the good moments and the bad moments equally together.
The one moment I will NEVER, ever forget is watching the complete and absolute loss of hope, the moment I watched my brother glance down at the sweet face having emerged and knowing beyond a shadow of a doubt that the happiness he had longed for in raising this baby boy was not to be his.  The depth of despair I saw play across his face in those few seconds are ones I would never wish on anyone at anytime.  But what has followed those hours of agony is a testament to strength of faith, the necessity of family and friends, and the power of love.
MOURNING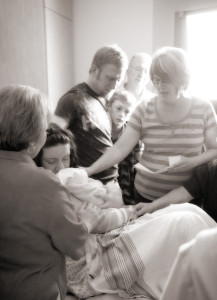 In writing this I recognize that the road to healing is long and will probably include bumps along the way.  That while the crisis is over, the aftermath is often what takes the longest to sort through.  But I believe we've seen a glimpse of where the healing begins….in the hours that followed the birth of Ryker, his family surrounded him.  Those same individuals waiting for updates came together, surrounded him and Joel and Meghan and we prayed him on his way.  Recognizing the importance of saying goodbye to his physical being while acknowledging that his spirit was no longer present.  Grandparents, parents, great aunts and uncles, aunties and uncles, godparents, and cousins gathered around him and held him, cried tears over him and loved who he would have been.  We lifted our broken hearts to our Creator, reciting the Psalm 139 over this sweet baby boy,
"For you created my inmost being:
You knit me together in my mothers womb.
I praise you because I am fearfully and wonderfully made;
your works are wonderful, I know that full well.
My frame was not hidden from you
when I was made in the secret place, when I was woven together in
the depths of the earth.
Your eyes saw my unformed body;
all the days ordained for me were written in your book before one of
them came to be"
Hearing that last sentence felt so utterly cruel.  God saw his body, whole and beautiful, perfectly formed and He ordained that NOT EVEN ONE would come to be.  We anointed his head with oil and asked that God would bless Meghan and Joel as they journeyed this path together in letting little Ryker go.
SAYING GOODBYE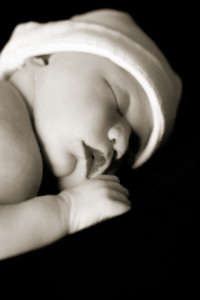 Joel and Meghan were brave and chose to keep their sweet child with them for a full day.  To recognize the family they had become and take time to say goodbye.  Tuesday evening came too quickly and brought the most difficult, agonizing moments as Ryker's physical presence came to end.  Once again family and friends gathered in the quiet and the tears flowed ceaselessly.  I don't think one can ever understand palpable grief until you are surrounded by it.  I held my own father's hand as we wept and listened to the rough, gulping voice of my brother pray the childhood prayer over his son, "Now I lay me down to sleep".
Those who know me, know that tears are a regular part of my life journey so I can handle those moments with relative ease.  What I couldn't handle in these moments was the anguished, wrenching sobs of grown men letting go of the sweetest dreams.  As friends left the room the remaining family gathered around Ryker's bassinet and tried to fathom moving on as my mom sang, "Jesus Loves Me" and then my dad prayed once more for peace and comfort.  It occurs to me now as I reread the words here that there were so many things we did with him that will be memories of the things we should have been able to do with him for a lifetime but were given only as glimpses in fleeting moments passed all to quickly.
ONE LAST GLIMPSE
The following days, passed in a blur.  I'm sure Joel and Meghan experienced an even greater haze than any of us as they were inundated with love from all sides.  Workmates, friends, extended family, flowers, food, and company.  All of us wishing we could take away the emptiness we imagined their arms would feel.  Funeral arrangements were discussed, people cautiously ask questions, uncertain of the wisdom in asking but human curiousity has a need to be fulfilled.  Joel and Meghan are gracious people, they were aware of the need for grief on every level with every person and they let us into their grief.
A week after Ryker's birth both families once again gathered at the funeral home to see him for the very last time.  Joel had dressed him in a sweet newborn outfit and they had him laid in a private room in a bassinet wrapped snuggly in the blanket my mom had lovingly stitched.  The corner held a heart, "To Ryker, Love Gramma" etched into it.  Grandparents went in and said their last goodbye.  Then the eight of us siblings, Joel & Meghan, Ben & Trish, Tim & Amber, James & myself and all our children went in to love this sweet baby boy one more time.  Before we left that room we circled into each, arms wrapped tightly around and prayed together for the sorrow we felt in losing Ryker, the blessing our children are to us and the long road ahead of Joel and Meghan as they understand how different their life looks now and the joy we anticipate for them one day in the future.
We will gather one last time in a month to honor the ritual of one's passing.  But his memory will ever be on our hearts, his death a sad ache of longing for something that should have been and his sweet face a part of our family history.
Ryker Leif Neufeld
May 20, 2013
8 lbs 15 ounces
22 inches
Born sleeping, nestled in the arms of Jesus.